Witnessing Extraordinary Life Journey and Listening to Voice of the Disabled
  On the occasion of the 30th National Day for Helping the Disabled, the Fourth National Disabled People "Five Creation" Summit Forum (hereinafter referred to as Five Creation Forum) hosted by Far East Holding Group and co-organized by Far East Charitable Foundation and Zhongke Boai (Beijing) Institute of Psychological Medicine will be held in Beichuan, Sichuan Province on May 18. With the theme of "Journey·Voice--the Path of "Five Creation" Lights up All", the forum, focusing on mental health and entrepreneurship of persons with disabilities, will call for more people to provide social resources and mental support for this group and help realize "Five Creation" dream.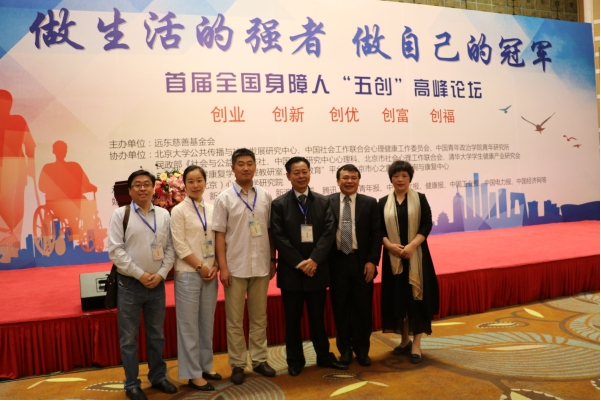 First National Disabled People "Five Creation" Summit Forum sponsored by Far East Charitable Foundation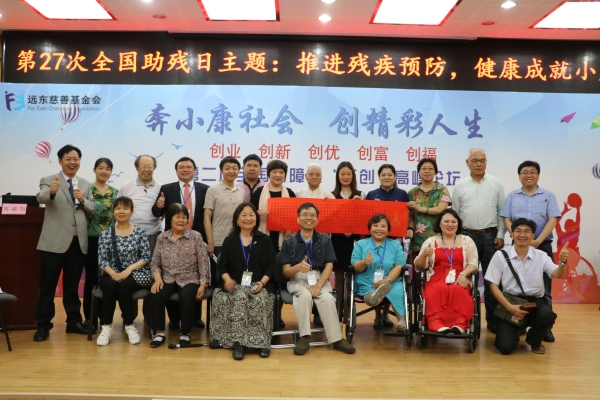 Second National Disabled People "Five Creation" Summit Forum sponsored by Far East Charitable Foundation
  The 19th National Congress of the Communist Party of China urged to launch programs to help the physically and mentally challenged. General Secretary Xi Jinping emphasized: "Persons with disabilities were a special group in need of extra care and attention." Jiang Xipei, Honorary President of Far East Charitable Foundation, founder, Chairman of the Board of Directors and Secretary of the Party Committee of Far East Holding Group, responded actively to the call. Guided by him, the company offered job opportunities to more than 2,000 persons with disabilities, enabling them to enjoy equality, participation and sharing.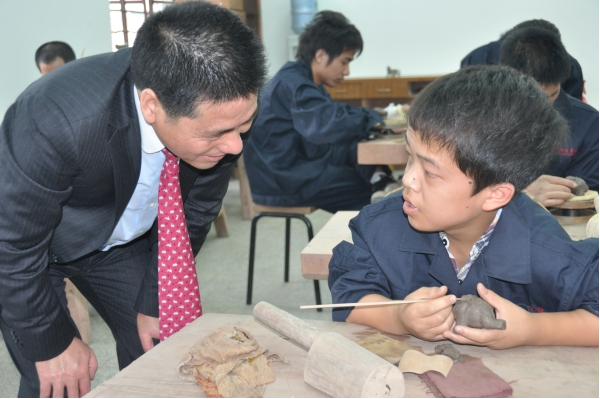 2009 Far East Employment Skills Training for Persons with Disabilities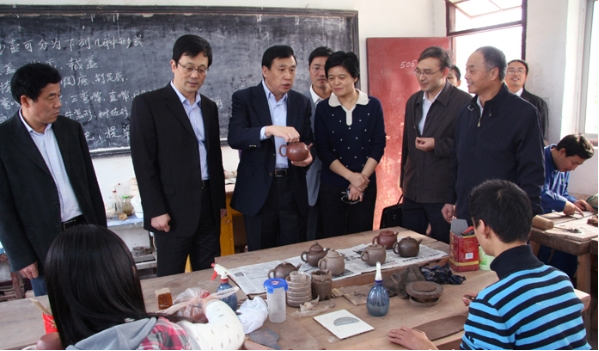 Far East Charitable Foundation
  Cooperating with Aide Training School in Yixing City--the training base of Disabled Persons" Federation in Jiangsu Province,
  to provide various training for nearly 2,000 people with disabilities in the province and beyond
  Recalling the Brotherhood between Shanxi Province and Sichuan Province in the past 10 years Supporting the disabled from two aspects to overcome difficulties
  In 2008, Wenchuan in Sichuan Province was hit by an unprecedented devastating earthquake, which nearly destroyed it. People across the country all came to its aid. At that time, the newly-found Far East Charitable Foundation felt obliged to make donations for the earthquake relief work. Mr. Jiang Xipei strongly supported the reconstruction of Wenchuan. As a pioneer among entrepreneurs, he advocated to donate everything as we can such as funds, resources and human capital, and practiced as he advocated to call on everyone to do their part. Zhou Dongjiao, the then Senior Director of the President"s Office of Far East Holding Group, was enlisted by the Institute of Psychology of CAS as a volunteer to Beichuan to provide psychological assistance and spread great love.
  At 2 a.m. on May 24, 2008,
  Earthquake relief supplies of three million emergency cables provided by Far East Holding Group were loaded,
  and would be rushed to the earthquake-hit area
  After 11 years of reconstruction, Wenchuan has been restored. Now it is a city surrounded by green mountains, with buildings scattered here and there. However, people who became disabled in the earthquake encounter mountains of difficulties in life or work. In order to better help disabled people to overcame barriers, Far East Charitable Foundation, adhering to the concept of charity and public welfare, will hold the Five Creation Forum before the 30th National Day for Helping the Disabled. The forum will bring together organizations for persons with disabilities from mainland China and Taiwan (China), and representatives from all walks of life, people with disabilities and service workers, life education and mental health workers, philanthropic enterprises, as well as non-governmental philanthropic organizations and media. Attendees will exchange ideas through the sharing of "Five Creation" model, mental health support, touching life stories, and discussions on how to push forward charity for Far East Charitable Foundation.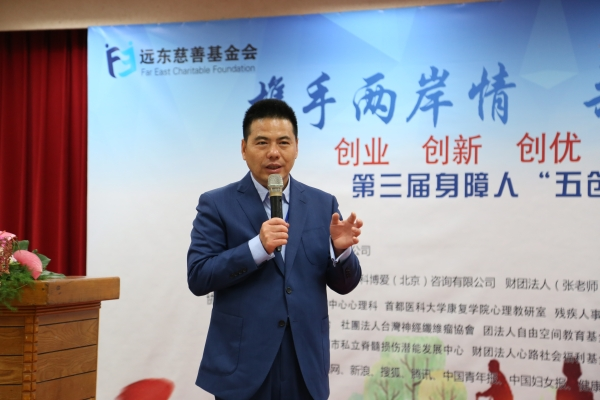 Jiang Xipei is delivering a speech at the third National Disabled People "Five Creation" Summit Forum
  Aiming at employment and entrepreneurship of disabled people, Far East Charitable Foundation provides both technical and financial supports. It not only initiated "Far East Entrepreneurship Street for People with Disabilities" and "Far East Assistance Center for Entrepreneurship of People with Disabilities" which helped more than 5,000 disabled people to star up businesses with donations of more than RMB 4,900, but also carried out pre-job training for disabled people to enhance their core competitiveness and helped more than 2,000 people get employed. Through "Far East Assistance Center for Entrepreneurship of People with Disabilities", Far East Holding Group Co., Ltd. enabled more disabled people to find jobs, thus creating social value and making positive contributions to the progress and development of social welfare and social civilization.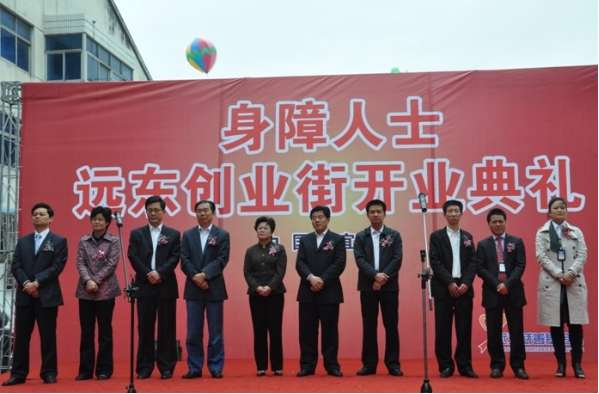 The Far East Entrepreneurship Street for Disabled People was put into operation in 2010
  In 2019, 11 years after the Wenchuan Earthquake, Far East Charitable Foundation planned to set up 50 assistance centers to help disabled people start up businesses, mainly targeting those who became disabled during the earthquake and want to start their own businesses. Meanwhile, representatives with disabilities, who have made unremitting endeavors to overcome mountains of difficulties, including Li Bin, who won the title of "Outstanding Entrepreneur with Disabilities", Dai Guohong, a handicapped athlete who won the championship in 100-meter breaststroke competition and second runner-up in 100-meter backstroke competition in the National Swimming Championships for the Disabled, He Huan,a former winner in the World Shooting Para Sport Championships, and Wan Zhuhong, an online famous singer who was disabled in the earthquake will stair up the stage to share their startup stories to encourage more disabled people to realize self-independence and work hard.
  Concerted efforts are made to promote the healthy development of people with physical and mental disabilities
  China is transiting from traditional society to modern society, and the efforts made to pay attention to mental health of disabled people just began. It is necessary to be aware that more care for disabled people symbolizes social harmony. The mental health of disabled people will once again become an important issue in the forum, just like the previous ones. It is of great importance to strengthen mental health education and develop mental health service system for disabled people to help them better adapt to social life.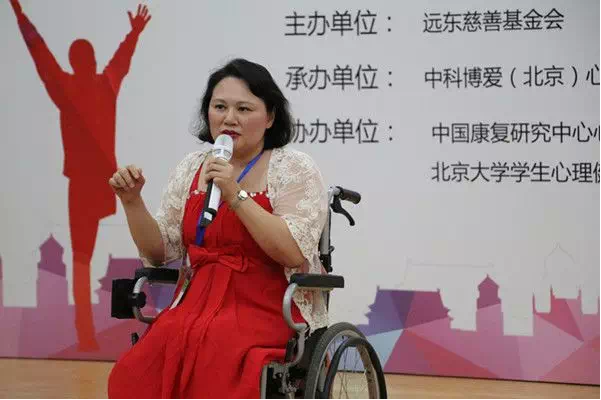 At the second National Disabled People "Five Creation" Summit Forum,
  representative with disabilities is delivering a speech
  At the sub-forum for psychological health in the afternoon, Lin Pingguang, Deputy Secretary-general of China Association of Social Workers, Gao Sifa, Chairman of Beichuan Big Fish Public Welfare Development Center, and Ji Jiefang, an expert in life education from Taiwan (China) and Professor of University Of South China, will exchange ideas with representatives from all walks of life based on topics such as what kind of psychological support disabled people need and how to provide intimate psychological support for disabled people. They worked together to promote entrepreneurship, innovation, self-improvement, wealth and well-being for people with disabilities.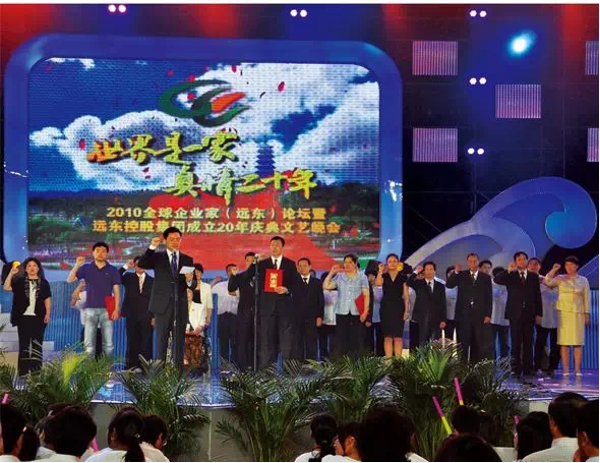 Far East Charitable Foundation
  CCTV Gala Evening themed on "Philanthropic Far East, and Big World Family"
  Apart from offering psychological support, the improvement of the external environment is also an important factor to promote the mental health development of people with disabilities. Therefore, the Far East Charitable Foundation has advocated charity at the level of language and mind, and has carried out many campaigns to "rehabilitate the disabled and restore the dignity of the disabled", so as to arouse the attention of the whole society to the disabled group, and leverage its own social clout and appeal to drive people to create a good environment for the disabled. Meanwhile, it has devoted itself in charity and public welfare cause in China, and has strived to live in harmony and get along equally with disabled people.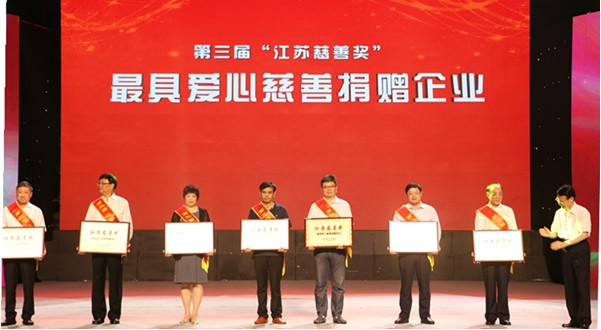 Far East Holding Group Co., Ltd.(Left Three) was awarded as the "Most Philanthropic Enterprise"
  In the future, Far East Charity Foundation will keep sticking to its long-standing principle and carry out a series of public welfare campaigns in strict accordance with the Charity Law, so as to promote charitable deeds and spread love. The achievements realized are the foundation and impetus for the future mission. The charitable foundation will surely do its bit in promoting the public welfare cause with the spirit of being a pioneer and not being afraid of difficulties, as well as firm ideals and beliefs.